Expanse is a cryptocurrency that is visualized as being truly decentralized and independent in a way almost no other cryptocurrency currently is.
It was created as a stable fork of Ethereum by respected and trusted cryptocurrency developers Christopher Franko, James Clayton, and Dan Conway.
Expanse sought to differentiate itself by not having an ICO to crowd fund the currency but through the creation of value by the products that its team builds on the platform.
They also have a smart contract system called Borderless Technology that is very versatile to use and forms the foundation of the DAO (decentralized autonomous organization).
Community Involvement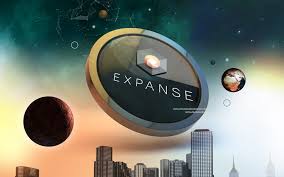 Every single person that holds Expanse can vote and suggest ideas about the future of the currency.
In fact, even people that do not hold Expanse can suggest ideas that can be taken up by the community.
This democratic method of functioning allows the community to take control of the currency as its own and then mold into whatever they want.
–
–
Self Funding Model
Expanse has also sought to build a self-funding model that keeps it truly independent and decentralized. A small reserve of all smart contracts for the DAO is used to fund the platform and in theory, this could keep it running without needing outside funding for a very long time, maybe even forever.
Expanse aims to be the platform on which cutting edge blockchain technology is used to provide solutions for identity, governance, equity, commerce, and charity. All of these areas will function independently under the DAO format but also work together with each other to form EXP.DAO.  See more on Bitcointalk.
Mining Expanse
Expanse is based on the Ethereum code base and follows the Dagger algorithm. There are plenty of Expanse mining pools available like EXP.POOL, HODLPOOL, SUPRNOVA, DWARFPOOL, AKASHA, DIGGER.WS, MINANDOANDO, and MINERPOOL.NET
Exchanges
Expanse is available to be traded on Poloniex, Bittrex, changelly, coinvc.com, bleutrade and alcurex.
Expanse Bond System
This is an innovative method that is used to incentivize the buying of Expanse cryptocurrency and then holding it to earn more value. The bond system rewards people only using the traditional EXP and functions similar to a self-funded, secured token contracts system.
Traditionally, it is only those who have got in early on a cryptocurrency or have enough money to get enough coins and setting up a Masternode to reliably stake rewards that have benefitted from this latest trend of staking in cryptocurrency.
Expanse is doing things a little different and allowing both the small investors as well as the big fish to make some money. The expanse Bond System is offering a fixed interest rate to small and big investors but requires the coins to be held for a minimum of six months.
This helps the coins move from the sell books on exchanges and increases its holding in the wider community. This system is also unique in that the coins will be tradeable after the lock-in period has been fulfilled.
Advantages Of The Bond System
The major advantages of this Expanse Bond System are that a Masternode can be set up with ease and does not even require a running computer once it has been started. The rewards are proportionally fair according to the investment and pay out every 30 days.
The disadvantage is that people will have to wait 30 days for their payout and they may not like the lock-in period. A six month lock-in period can be a very long time in the world of cryptocurrency.
Partners
Expanse has gained a lot of credibility in its two years of so of existence and has massive companies like Microsoft Azure, Microsoft BizSpark, CenturyLink, Changelly, Gameboard and Jaxx on board as partners.
Conclusion
The Expanse cryptocurrency is a well fleshed out and mature offering, something that should be expected from experienced and well-respected cryptocurrency developers. It has already created tremendous value for its community and continues to gain traction among the wider cryptocurrency pool.
Its unique advantages of being completely decentralized and self funding, low transfer fees, numerous incentives for small and large investors as well as partnerships with a number of well known brands make it a very attractive cryptocurrency to mine and invest in.
Like any other cryptocurrency, it comes with risks of volatility but the level of decentralization built into every ICO on its platform makes Expanse relatively stable.
Editor's Note:  Also see our article about Expanse and TOKENLAB
—
Written by: dhruvgupta
cryptocurrencies, dao, expanse