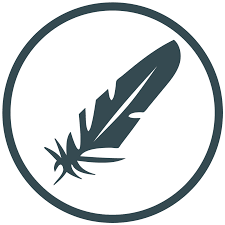 Ever since the launch of the first digital currency the cryptocurrency space has witnessed a massive expansion and Feathercoin has been a part of it.
Contrary to some people's perception these digital currencies do not compete against each other, but rather complement one another.
It is worth noting that no single cryptocurrency is 100 % perfect in terms of providing anonymity and security (yet), and that is why a myriad of digital currencies are coming up often with the aim of improving these shortcomings.
One digital currency that is fast gaining popularity is Feathercoin.
WHAT IS FEATHERCOIN?
Shortened as FTC, the Feathercoin is a secure and unique cryptocurrency that uses the proof of work system to facilitate transactions. It was created and launched in 2 0 1 3 by Peter Bushnell, making it one of the oldest digital currencies.
Feathercoin is an upgrade of both the Bitcoin and the Litecoin with most of its features borrowing heavily from the Litecoin. However, it has numerous features in comparison to other cryptocurrencies, making it more reliable.
WHY THE FEATHERCOIN CRYPTOCURRENCY?
Just like its predecessor the Litecoin, FTC is open source, meaning that anyone can audit the system.
Previous money systems were prone to attacks. To address the issue of security, the Feathercoin uses a powerful NeoScrypt algorithm to facilitate secure digital transactions.  This coin is A S I C resistant, allowing users to mine via conventional CPUs and GPUs.
Despite the fact that it uses the proof of work system, which was regarded as time-consuming, FTC transactions are predominantly fast, scaleable and secure. A block transaction takes an average of 60 seconds.
HOW FEATHERCOIN WORKS
The Feathercoin system is built on the backbone of a swift and highly secure distributed network. The essence of this network is its advanced functionality.
Using the NeoScrypt algorithm, any user can generate Feathercoins through the process of mining, along as he or she has a CPU or GPU. Mining using the NeoScrypt is extremely rewarding, in comparison to other digital currencies. Miners get high rewards of 80 coins per block.
How to Mine Feathercoin
WHAT IS GREAT ABOUT FEATHERCOIN?
Digital currencies are great, but few of them beat the Feathercoin in terms of features.
Apart from its NeoScrypt algorithm, the system has a user – friendly Multisignature ( multisig ) with graphic user interface ( GUI ).  A Multisig is a security technique that requires several users to sign a transaction before it can be released onto the blockchain.  The Feathercoin multisig feature allows users to make comments in blockchain transactions.
What makes the Feathercoin standout is its In-wallet plugins for third party services. These plugins include the Coinnector, Shapeshift and Bitmessage, among others.
Coinnector is a real-time service that lists FTC on the Alternate coin exchanges. On the other hand, the Shapeshift plugin is a service similar to Coinnector, but with more advanced features. Users can trade their cryptocurrencies without having an account.
The Bitmessage plugin is a peer to peer messaging system that allows users to pass invoices and addresses in an anonymous manner. This plugin is open source and does not pass through any central server.
The Feathercoin system allows users to generate, manage and search stealth addresses, which are essential in carrying out secure and anonymous currency transactions. Additionally, the fact that the system is open source means that users can obtain transaction reports whenever the need for them arises.
Its advanced check – pointing system ( ACP ) prevents malicious people from duping genuine users into double spending. This feature ensures that clients can only accept blockchains that have corresponding block numbers.
HOW MUCH IS AVAILABLE?
The Feathercoin cryptocurrency has a total of 336 million coins.  This is 4 times more than its predecessor the Litecoin and a staggering 16 times more than the Bitcoin.
WHERE TO TRADE
Buying and selling of the Feathercoin is available on several exchanges including:
Users can also use the Coinnector and Shapeshift services to trade in their digital coins
DOWNSIDES
Feathercoin uses the proof of work system which by some is considered to be relatively slow. Despite the fact that Feathercoin transactions are fast, confirmation might take a considerable amount of time.
Orphaned blockchains pose a security threat in that if a hacker can create orphan blocks in a blockchain then the attacker can cast doubt on the authority of the original blockchain. However, the FTC developers have made tremendous gains in improving security, with features such as ACP playing a critical role.
TAKE AWAY
The Feathercoin's well balanced production model and development support makes it one of the most secure and reliable digital currency. The fact that it works towards complementing the features of other digital currencies makes it more appealing. Sooner or later Feathercoin is set to take its place among the leading digital coins.
Written by: stroebel
Cryptolix Trader Notes On Feathercoin
Feathercoin like many other cryptocurrencies made a solid bottom (BTC wise) on or around March 1st, 2106 and has had a solid uptrend since then, rising more than 400%.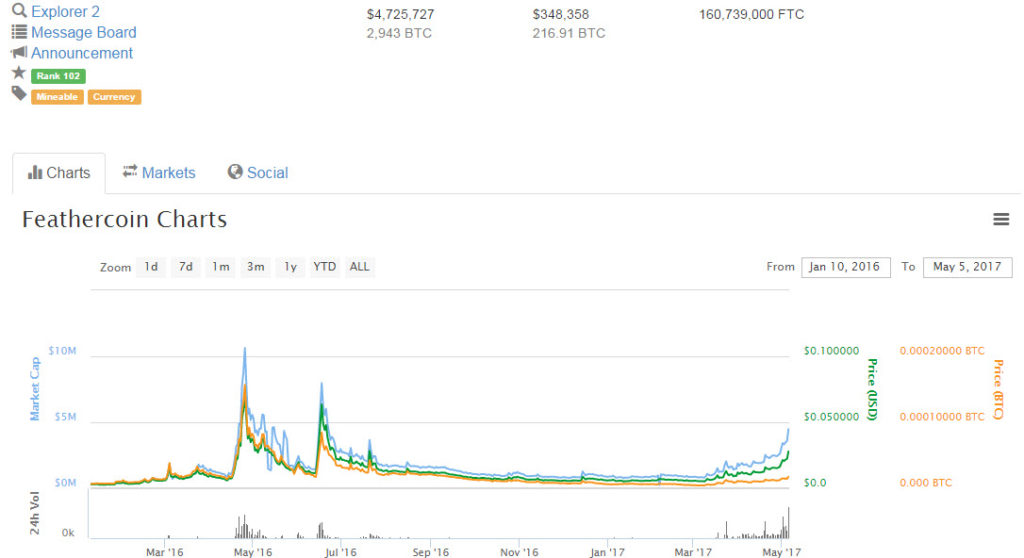 –
After solid accumulation in March and April, Cryptolix trader continues to buy along the uprising trend line.
Trading cryptocurrencies requires nerves of steel in these fast moving markets with the willingness to withstand 50% drawdowns (or more) in price at times in order to stay with the trend to maximize profits longer term.