There's been a fair amount of action in the MUE trading pits lately with Monetary Unit seeing gains of as much as 500% over the last couple of weeks.  We decided to take a look at this (what turns out to be an incredibly exciting) cryptocurrency.
MUE IS A Fairly Old Coin
Monetary Unit MUE is a cryptocurrency that was launched on the 27th of July 2014 as yet another attempt to democratize the usage of cryptocurrency and truly build a modern financial platform accessible to everyone.
The official name of the cryptocurrency is Monetary Unit, with MUE being the abbreviation it is referred by, similar to the United States Dollar and USD.
Key Features of Monetary Unit MUE
The first stand out feature of MUE that immediately screams out at you is the total number of coins that were originally going to be available.
1 Quadrillion units. You read it right, that's one followed by fifteen zeros. (the total number of coins has since been reduced to 4 Billion) – (see the Bitcointalk thread here)
… and see the latest Developer's interview over on Investitin.com Here:
( a quote from the above mentioned article regarding the coin supply at rate of distribution/mining compared to other alt coins)
Total coin circulation will be 4,000,000,000, down from a current essentially infinite supply.

People balk at the number of coins, until I put that into perspective.  Firstly, it will take about 130 years for all coins to be mined.

Secondly just look at the current number 4 coin, Ripple.  37 Billion coins. In 130 years MUE will still only have a coin circulation of about 10% of Ripple!

The emission rate is 40 MUE per block and a 40 second block time.
Planned For The Long Term
The developers behind the currency believe that this large number is essential for people to be able to get behind the currency as long term and protect its stability. With so many coins available there is very little chance of a group of miners getting a large chunk of the currency available and then manipulating the price.
It will take close to 130 years to mine all the coins available in the currency!
Price Chart October 2016
—
—
MUE Price Chart March 19, 2017 – below +500%!
Cryptolix Trader Notes/Update May 8, 2017
After posting the above chart in mid March 2017, MUE continued higher nearly by nearly 10x (1000%) before dropping back in a strong way. Since that pullback, MUE has maintained a strong uptrend.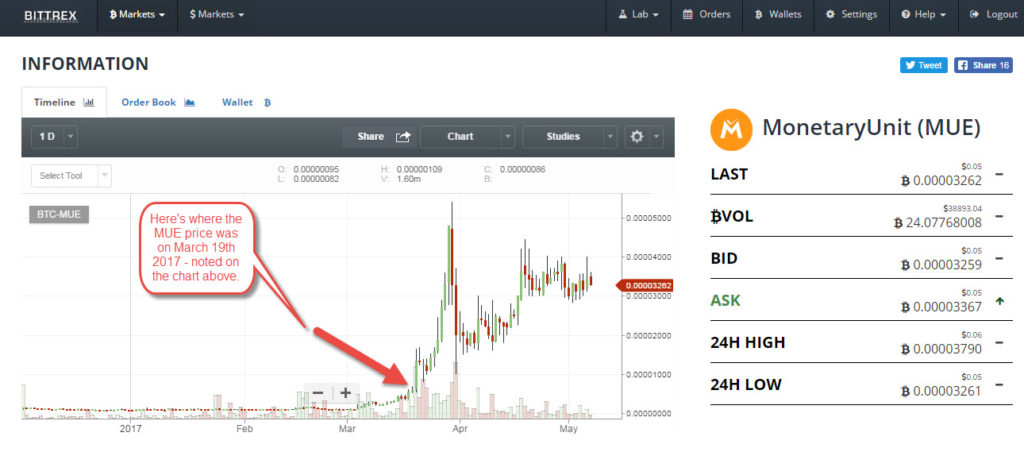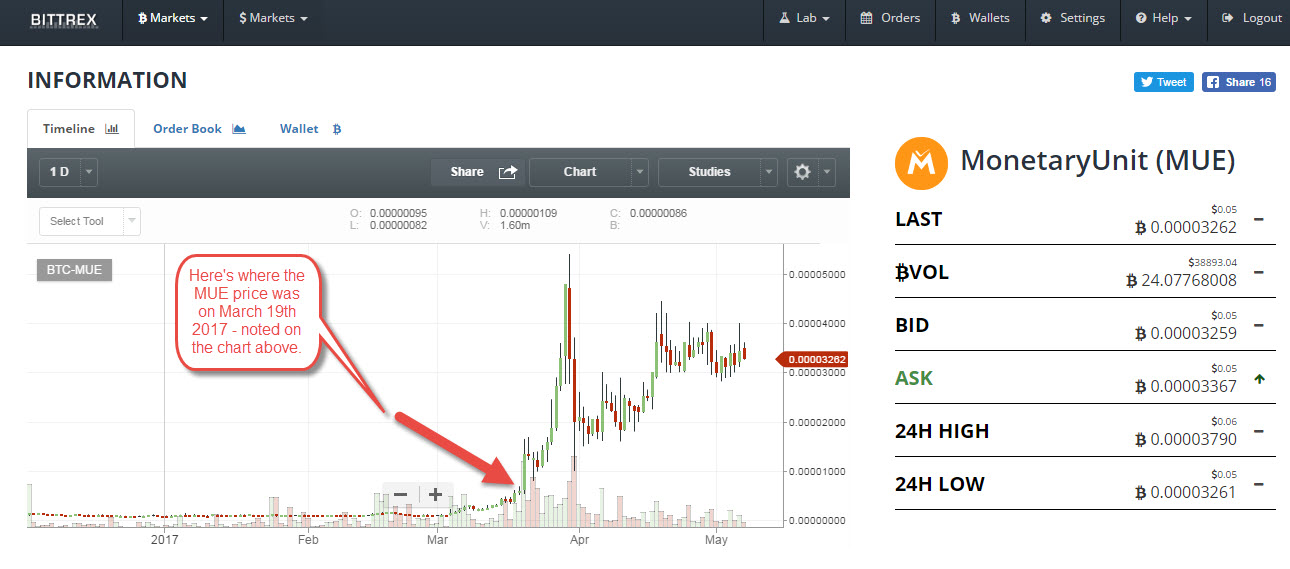 Developer's Thoughts
The developers have repeatedly stated that they are not gearing this currency towards any one specific group, ie. investors, miners or traders.  By making such a large number available over a long period of time, they are ensuring that MUE retains a small easy to spend value without the need to divide it into fractions.
What About The Huge Price Increase Starting In March 2017?
Re. the price rise… I think there are numerous factors.

1) we're a well established well respected project

2) we are delivering our objectives

3) Dash price rise has gotten people looking for "cheap dash" equivalents

4) the profitability of mining is getting is consistent exposure in the top 1-3 slots of coin warz etc

5) people want Masternodes post migration and so demand for the 500k MUE per MN has also increased     demand
Recent Developer Comments From Bitcointalk Thread
For your information, MUE will be transitioning to X11 as soon as possible, as it will be relaunched based on Dash code with all kinds of MUE tweaks and adjustments…

… know we are still active and finishing off the code base for the public beta testing of X11/MasterNodes.

We're a little delayed granted, but we're still busy putting things together in the background which should all be very interesting once they come together.

Why MUE? (full document HERE)

Fast near instant transactions

Self funding

Decentralised governance allows stakeholders to vote democratically

Efficient mining hardware can be used

No ignored or delayed transactions

Foundation team

www.MonetaryUnitFoundation.org

Development team

Well established, launched July 2014

Consistently growing price & network security

Road map &

objectives

Development budget

Committed team

Commercial arms & affiliates

www.MUEX.io

Growing portfolio of apps & services

Long term low inflation rate ~3% promotes use

Utility focused so MUE can be used to purchase goods & services

Great support from a friendly community

https://mueslack.herokuapp.com/

More reading

Our first press article:

https://www.investitin.com/mue-secure-fast-near-instant-transactions-self-sustainable-cryptocurrency-project-long-term-goals/

The MUE Advantage https://docs.google.com/document/d/1PGz5qRQ2SPN98PBuT6rPXkgzXbjF-Ma2FhsaWNUQjO0/edit

MasterNode ROI projections

https://docs.google.com/spreadsheets/d/14AVDtxfYAnIVtzbCSONO5MBQ948eVCcGChUcmpPBGWA/edit#gid=0

MUE inflation rate

https://docs.google.com/spreadsheets/d/1wLkorAmWrWyX2omwxzCbYHqsd-FjfJsp6jknQJH3x3Y/edit?usp=sharing
Quark Fork Originally
MUE is based on the programming language behind the Quark cryptocurrency, however, differs from it in various technical aspects. One of the big advantages of basing MUE on Quark was to adopt a similar 8-way random hashing algorithm that is both secure and long term viable.
Recent news (October 2016) is that it will soon be changed over and be based on the Dash code.
X11
In the short term, though, MUE is migrating to the X11 Proof of Work algorithm that is rated very highly and is being adopted by a number of cryptocurrencies.
Employing X11 will help MUE attract miners since the algorithm is very efficient and requires low levels of hardware power. It also helps keep the original directive of making this currency accessible to the largest number of people possible alive.
Monetary Unit Video ( from the MUE Youtube Channel )
Meant For Slow Growth?
The way in which MUE coins are released is also an interesting departure from most coins. There is no halving the block reward and that encourages people to get involved at any point of the life of the coin. The reward number of coins is also kept low to discourage speculative mining.
The developers released 40,000 blocks every 18.5 days, terming it as one stage for a total of ten stages. After that the number of coins released per block was fixed at 40 and each block would be released every 40 seconds.
This totals one coin released every second.
How To Mine Monetary Unit MUE?
MUE's can be mined by downloading the MUE software from the MonetaryUnit.org website, which is basically a wallet that allows you to store, transfer and spend your earned coins. Wallets are available for Windows, Mac OS, Android, and Linux. There are options to use internet services for storing and transfer of coins to allow other phones to participate as well.
Exchanges
MUE is listed on Bittrex, Cryptopia, Bleutrade, and a couple of other smaller exchanges where it can be exchanged or traded with other cryptocurrencies.
written by: dhruvgupta