2016 is shaping up to be an exciting time for cryptocurrency.  As of early March, Bitcoin has been holding $400 support, indicating a sturdy start to the new year.
With each passing week we seem to receive more news about possible expansion of cryptocurrency use in a new arena, or even a new nation. There are always innovative new ideas for how the currencies could be made to appeal to new consumer bases, as well as how the blockchain might be implemented in existing financial institutions or elsewhere.
A New Use For Bitcoin?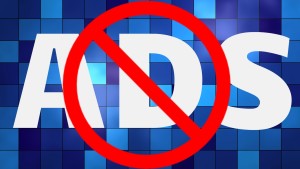 But now we have a new story about a possible expansion of Bitcoin utility that not too many people saw coming.
Evidently, the cryptocurrency is now being viewed as a possible solution to ad blocking online.
Ad blocking technology has begun to pose a massive problem to digital publishers and online media sites in the past few years, as consumers are finding ways to avoid the very ads that generate revenue for these platforms.
With site visitors no longer obligated to put up with advertisements, advertisers see less of an upside to partnering with websites to buy ad space.  Thus, the websites have to look for new ways to generate revenue.
Is Bitcoin Positioned For This?
In some ways, Bitcoin has already positioned itself to be in consideration for this sort of development. While we've heard a lot in recent years about Bitcoin acceptance expanding into brick-and-mortar stores and everyday, in-person use, much of its use still takes place online.
Indeed, many online businesses already accept Bitcoin and have done so for some time now.  These businesses include major companies like Amazon, Target, and PayPal, but also many smaller names.
A Natural Fix?
Additionally, in part because consumers are already comfortable using Bitcoin online, the cryptocurrency appears to be a natural fix for the revenue issue that now faces so many digital publishers and media sites.
The idea would not be for these sites to simply begin charging users with subscription fees to look at content, because the idea of paying a lump sum for any amount of written or watched material is something most people will only consider for a handful of sites at a time.
The Problem
The ad blocking problem is more about consumers' everyday web surfing, which may take them to a dozen or more sites on a regular basis.  Rather, the idea here would be to allow customers to sign up for a system whereby they would pay tiny amounts of Bitcoin (equivalent to a few pennies) per page view – as an alternative to viewing ads.
The hope for sites employing this sort of system would be to encourage consumers to adopt what feels like a negligible fee for web browsing, which would of course amount to significant revenue on the part of the sites. It's effectively a different type of subscription, and it would rely on micropayments that could be easily facilitated by Bitcoin.
Frankly, it's easy to see the benefit of a transition like this for the very sites that are considering kicking it off. However, the benefit for the expansion of cryptocurrency could also be pretty significant.
Right now this discussion remains largely hypothetical, but should it become the norm to sign up for content sites via a Bitcoin micropayment system, it stands to reason that more consumers will be driven to adopt Bitcoin, if only for that purpose. The scale of the impact this could have on digital currency expansion is difficult to estimate, but it could be a major development.
advertising, Bitcoin, technology